GCT Router Experience the longest tool life router bit in the PCB industry
Using super hard tungsten carbide steel from Switzerland combined with GCT ultra-precision multilayer CVD coating technology (alternating nano-polycrystalline layer coating and polycrystalline layer coating), we are able to produce GCT MicroSpeed Coating with hardness that is comparable to the hardness of natural diamond. Our CVD coating is able to withstand high temperature of 800 degrees and its strong adhesion ensures no peel off even when there is considerable wear on the tool. CVD coating will not be affected during high-speed processing, thereby effectively reducing tool wear, improving tool life and ensuring stable machining quality.

CVD ROUTER - TOOL TYPES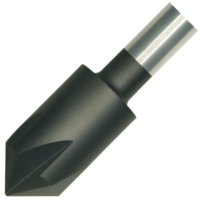 Suitable for SMT de-paneling of IMS made of aluminum and copper. Left twisted (Down Cut).